3 Things Your Bridesmaids Want You to Know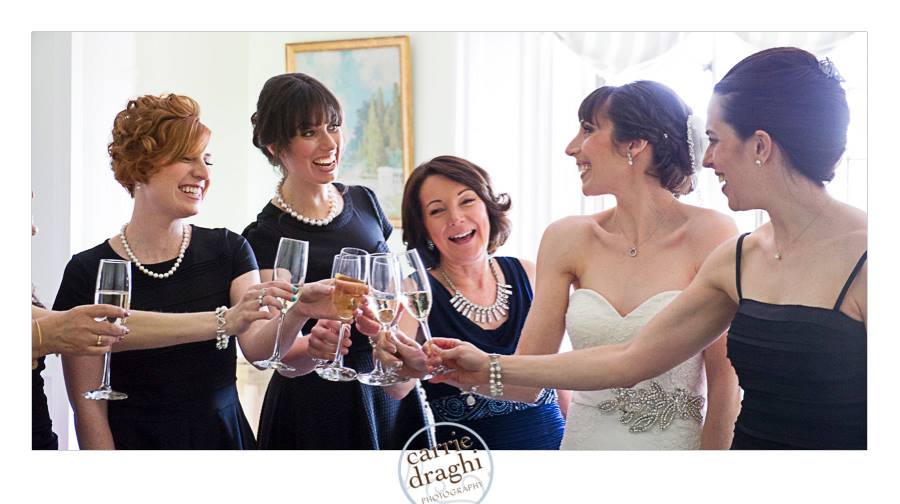 Planning your wedding is one of the most exciting times of your life. The natural impulse is to share the excitement with those closest to you—your bridesmaids. While your bridesmaids are genuinely thrilled for you, they may be feeling apprehensive about what being a bridesmaid will mean for them, and how it could change their relationship with you. They don't want to burst your bubble, though—so we'll tell you things your bridesmaids secretly wish they could:
1. Don't forget us! When you have an exciting life change like an engagement, it feels as if you're the only one to ever experience it. It's hard not to think (and talk) about your wedding all the time. It's great to share your plans! Just remember that the color of your cocktail napkins isn't so critical to your friends that they'll want to discuss it for your entire coffee date. Remember to ask your friends how they're doing—and listen, really listen, to their answers—before launching into a lengthy discussion about the ushers' boutonnieres.
2. We're not models. Most women have been picking out their own clothes since about the fourth grade. The one exception? When they're bridesmaids. Then, someone else gets to choose the color, style, and (yikes!) price of an outfit that they'll wear very, very publicly. Pick a dress style that will flatter your bridesmaids' body types. Consider allowing them to choose from a line of dresses, in the same color and general style, so they'll have dresses they love and the coordinated look you want.
3. We're not rich. Your wedding is costing you thousands—but it's your wedding. Your bridesmaids could easily drop a thousand bucks on your wedding, too, between dresses, shoes, hair, nails, makeup, travel, gifts, and throwing you a shower and/or bachelorette party. Remember that although it's your dream day, nothing breeds resentment among bridesmaids faster than having to shell out hundreds of dollars for something they may be struggling to afford, and about which they weren't consulted. You can still have your dream wedding; just be mindful of your friends' budgets, and consider (discreetly) offering to help with expenses.
Remember: your wedding's about celebrating relationships. A little attention paid to your bridesmaids now will help assure that the favor is returned, on your wedding day and for years to come.
Written by Rebecca King exclusively for Atmosphere Productions ~ Copyright © 2016
Atmosphere Productions LLC is a CT Wedding DJ, providing professional mobile entertainment service, Music, Reception Entertainment Directors, MC and DJ's primarily for Weddings in the Greater Hartford area but throughout Connecticut, Massachusetts, New York, Rhode Island and in the New England area.
Specializing in wedding disc jockey entertainment, radio and club dj's, corporate and business events, photo booth rentals, ceremony musicians, strolling violinist, guitarist, cocktail and chamber musicians, custom lighting, custom song editing and voice-over services.
For further information visit our website at
www.atmosphere-productions.com
Contact us TODAY for FREE information.
DJ Sam
Sylvester Samuels
Reception Entertainment Director
As featured in Eric and Amanda's winning wedding on the season finale of TLC's TV
"FOUR WEDDINGS"
Couples' Choice Awards™ 2014, 2015, 2016, Bride's Choice Awards™ 2011-2013 and Gold Rated Awards™ 2011-2013
Atmosphere Productions LLC
Professional Disc Jockey Entertainment
PO Box 330303
West Hartford, CT 06133-0303
Phone: 860.231.7141
Skype: atmosphereproductions
Celebrating over 30 Years in the Wedding/DJ/Entertainment Music Business
Member of The DJ Network
Member of The West Hartford, CT Chamber of Commerce
Member of The Association of Professional Entertainers
DJ Times ~ Mobile DJ Of The Month
Former WKND Air-Personality
Copyright © 2016 Atmosphere Productions™ LLC All Rights Reserved.
3 Things Your Bridesmaids Want You to Know