I-Spy Game At Your Wedding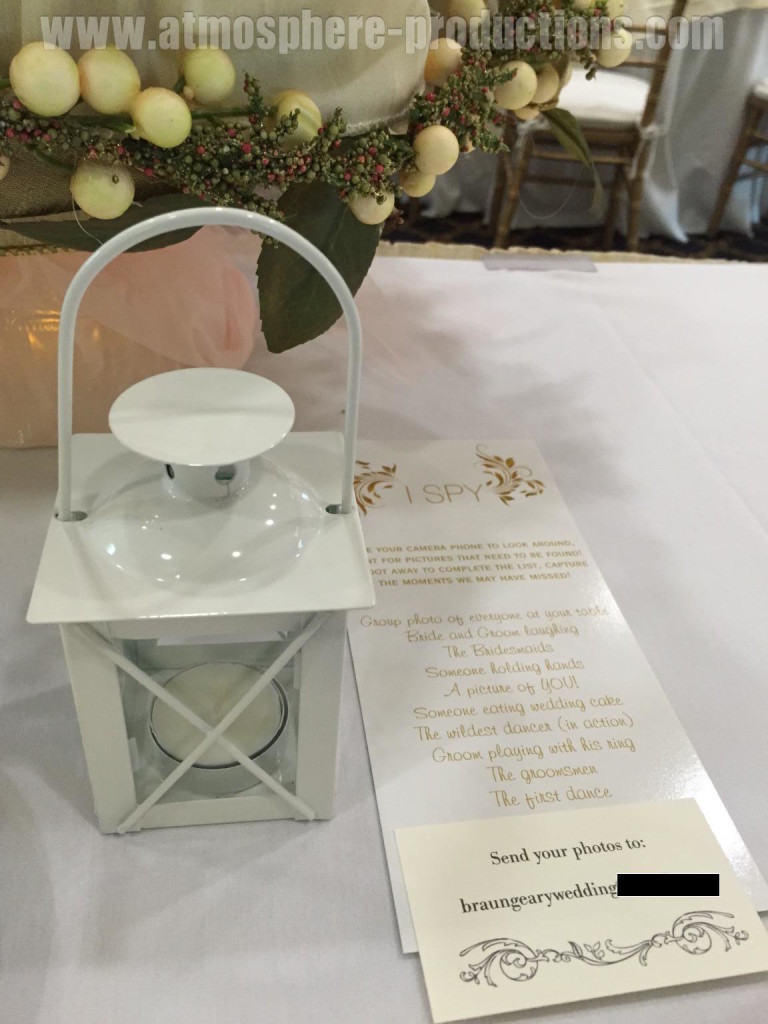 I-Spy with my little eye….
We provided the entertainment for Mary Elizabeth and Dan's wedding and thought this was a truly unique idea to incorporate I-Spy into the reception.
It's super simple and is a great way to get your wedding guests excited and mingling! Not only is it nostalgic for all the adults, but it will keep the little ones entertained as well.
When making your I-Spy wedding game list, keep in mind the type of photos you want your guests to capture. These moments are the ones that your professional photographer might not be able to spot. For example, your Grandma gettin' down with the groomsmen or the adorable flower girl stuffing her face with red velvet cake. Try and personalize the list as much as possible, and remember to keep it fun and unique!
Put your I-Spy list on each table at the reception, either by using a place card holder or simply printing multiple copies to place at each table setting. Keep a few pens or pencils available so your guests can check off the items they have completed.
Finally, create a hashtag for your wedding day, so that all your photos will be assembled in one location on social media. Search and test your hashtag BEFORE the wedding to make sure another couple are not using the same hashtag. If you want to keep the pictures private then create a unique email address just for your guests to send you the I-Spy pictures.
Atmosphere Productions LLC is a CT Wedding DJ, providing professional mobile entertainment service, Music, Reception Entertainment Directors, MC and DJ's primarily for Weddings in the Greater Hartford area but throughout Connecticut, Massachusetts, New York, Rhode Island and in the New England area.
Specializing in wedding disc jockey entertainment, radio and club dj's, corporate and business events, photo booth rentals, ceremony musicians, strolling violinist, guitarist, cocktail and chamber musicians, custom lighting, custom song editing and voice-over services.
For further information visit our website at
www.atmosphere-productions.com
Contact us TODAY for FREE information.
DJ Sam
Sylvester Samuels
Reception Entertainment Director
As featured in Eric and Amanda's winning wedding on the season finale of TLC's TV
"FOUR WEDDINGS"
Couples' Choice Awards™ 2014, 2015, 2016, Bride's Choice Awards™ 2011-2013 and Gold Rated Awards™ 2011-2013
Atmosphere Productions LLC
Professional Disc Jockey Entertainment
PO Box 330303
West Hartford, CT 06133-0303
Phone: 860.231.7141
Skype: atmosphereproductions
Celebrating over 30 Years in the Wedding/DJ/Entertainment Music Business
Member of The DJ Network
Member of The West Hartford, CT Chamber of Commerce
Member of The Association of Professional Entertainers
DJ Times ~ Mobile DJ Of The Month
Former WKND Air-Personality
Copyright © 2016 Atmosphere Productions™ LLC All Rights Reserved.
I-Spy Game At Your Wedding