Ceremony Music Suggestions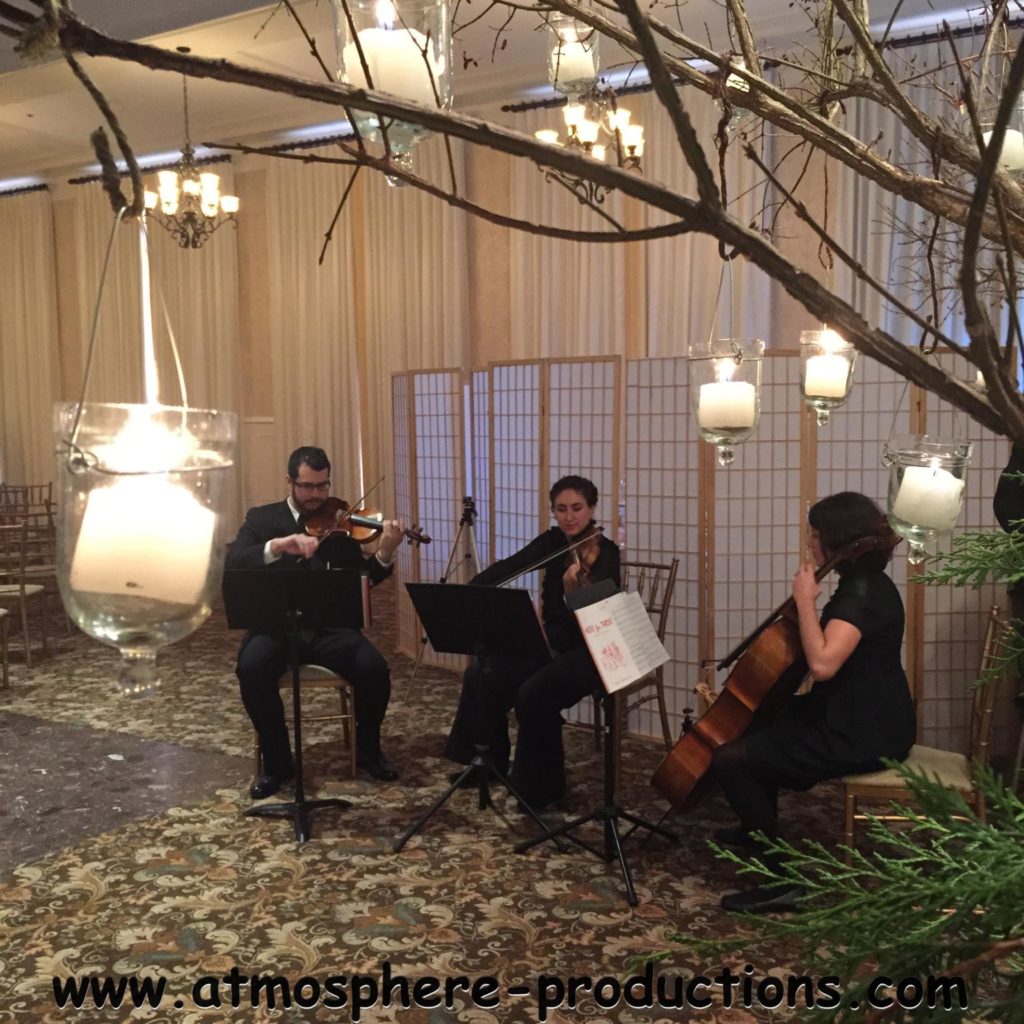 ATMOSPHERE PRODUCTIONS can now provide you with numerous choices for your on-site Ceremony, Cocktail Hour or Dinner music. We have teamed up with some of Connecticut's leading and most experienced musicians to offer creative and unique ways to make your event unforgettable.
Here are some Ceremony Music suggestions:
Prelude – Whilst Guests Are Seated:
• Massenet – "Meditation From Thais"
• Mozart – "Ave Verum Corpus"
• Dvorak – "Humoresque"
• Handel – "Minuet"
• Schubert – "Serenade"
• Beethoven – "Ode to Joy"
• Mozart – "Viennese Serenades"
• Haydn – "London Trios"
• Handel – "Largo" from Xerxes
• Mozart – "Eine Kleine Nachtmusik"
• Tartini – "Two Sonatas"
Processional – For Bridesmaids Entrance
• Vivaldi – "Four Seasons – Spring"
• Handel – Air From "Water Music"
• Bach – Allegro From "Brandenburg Concerto#4"
• Bach – "Air On G String"
• Chopin – "Nocturne In E Flat"
• Tchaikovsky – "Waltz" (from Sleeping Beauty Act 1)
• Traditional Processional – "Yedid Nefesh"
Processional – For Bride Walking Down The Aisle
• Purcell – "Trumpet Tune and Air"
• Clarke – "Trumpet Voluntary"
• Handel – "Air From "Water Music"
• Pachelbel – Canon In D"
• Stanley – "Trumpet Tune"
• Wagner – "Wedding March" From Lohengrin
• Traditional – "Dodi Li"
• Beatles – "Here Comes The Sun"
Ceremony – Optional Music During Ceremony
• Bach – "Jesu Joy of Man's Desiring" From Cantata #147"
• Vivaldi – Allegro From "Spring" Of The Four Seasons
• Shubert – "Ave Maria"
• Bach – "Sheep May Safely Graze"
• Jeff Buckley – "Hallelujah"
Recessional – After Bride and Groom Have Exchanged Vows
• Mendelssohn "Wedding March"
• Handel "Queen Of Sheba" From Solomon Bach
• Allegro from "Spring" – Vivaldi
• Handel – "La Rejouissance" from Fireworks Music
• Bach "Brandenburg Concerto#1 In F"
Other Suggestions:
• Purcell – "Trumpet Tune and Air"
• Mouret – "Rondeau"
• Wagner: Lohengrin Bridal Chorus
• Bach "Sheep May Safely Graze"
• Debussy – Clair De Lune
• Debussy Reverie
• Traditional Greensleeves
• Handel Allegro Maestoso – "Water Music"
• Bach – "Brandenburg Concerto #3"
Atmosphere Productions LLC is a CT Wedding DJ, providing professional mobile entertainment service, Music, Reception Entertainment Directors, MC and DJ's primarily for Weddings in the Greater Hartford area but throughout Connecticut, Massachusetts, New York, Rhode Island and in the New England area.
Specializing in wedding disc jockey entertainment, radio and club dj's, corporate and business events, photo booth rentals, ceremony musicians, strolling violinist, guitarist, cocktail and chamber musicians, custom lighting, custom song editing and voice-over services.
For further information visit our website at
www.atmosphere-productions.com
Contact us TODAY for FREE information.
DJ Sam
Sylvester Samuels
Reception Entertainment Director
As featured in Eric and Amanda's winning wedding on the season finale of TLC's TV
"FOUR WEDDINGS"
Couples' Choice Awards™ 2014-2016, Bride's Choice Awards™ 2011-2013 and Gold Rated Awards™ 2011-2013
Atmosphere Productions LLC
Professional Disc Jockey Entertainment
PO Box 330303
West Hartford, CT 06133-0303
Phone: 860.231.7141
Skype: atmosphereproductions
Celebrating over 30 Years in the Wedding/DJ/Entertainment Music Business
Member of The DJ Network
Member of The West Hartford, CT Chamber of Commerce
Member of The Association of Professional Entertainers
DJ Times ~ Mobile DJ Of The Month
Former WKND Air-Personality
Copyright © 2016 Atmosphere Productions™ LLC All Rights Reserved.
Ceremony Music Suggestions