Clinking Of The Glasses.... To Do or Not To Do?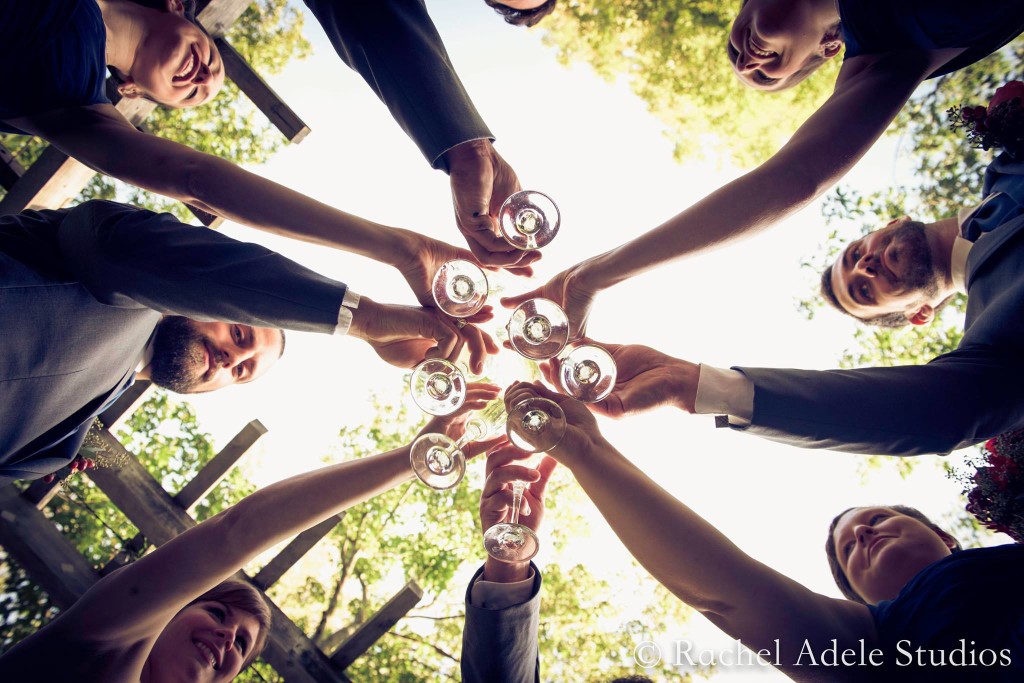 Many of our clients dislike the custom of the Bride and Groom being 'forced' to kiss whenever glasses are clinked together. Some find it offensive. I know, from personal experience, that many of the guests like it and won't understand why the Bride and Groom don't want to "follow through" and KISS! So the question is often asked "What can I do that'll satisfy my guests and make me comfortable?"
"Clinking" of glasses may have originated from the medieval days when wine was often spiked with poison. If a host wanted to prove to their guests that the wine wasn't poisoned, he would pour part of the guest's wine into his own glass and drink it first. If the guest trusted his host, he would just clink glasses when the host offered his glass for a sample. (Hence the clinking of glasses has become a sign of trust, honesty, and toast to good health.) Another explanation claims that the practice warded off evil spirits.
If your guests start clinking the glasses, don't panic…. we have many delightful alternatives that you plan ahead to avoid kissing:
Respond by tapping your Champagne glasses together (no kissing)


Ask the guest (or the entire table of guests) who started the clinking to serenade you with a song that contains the word "LOVE"


Tell your guests that you'll kiss only if the "clinker" makes a contribution to your favorite charity (have a "donation jar" ready)


Ask the clinker to demonstrate how a really good kiss should look!


Provide Wedding Bells – Place one wedding bell per table. Guests must ring the bell when they want you to kiss.


Put funny instruction into balloons. When a guest clinks, they have to burst the balloon and follow whatever instructions are inside. The instructions can be funny but not embarrassing.


The Bride and Groom kiss the first time glasses are clinked. Then every time glasses were clinked, the Bride and Groom draw a guests name out of a basket and make them kiss their date or partner. Or arrange ahead of time, that when guests start clinking the glasses, members of the Bridal Party will go and kiss their respective partner or date.
ATMOSPHERE PRODSUCTIONS can make the suggested announcement for the required responses to the clinking of the glass alternatives.
Atmosphere Productions LLC is a CT Wedding DJ, providing professional mobile entertainment service, Music, Reception Entertainment Directors, MC and DJ's primarily for Weddings in the Greater Hartford area but throughout Connecticut, Massachusetts, New York, Rhode Island and in the New England area.
Specializing in wedding disc jockey entertainment, radio and club dj's, corporate and business events, photo booth rentals, ceremony musicians, strolling violinist, guitarist, cocktail and chamber musicians, custom lighting, custom song editing and voice-over services.
For further information visit our website at
www.atmosphere-productions.com
Contact us TODAY for FREE information.
DJ Sam
Sylvester Samuels
Reception Entertainment Director
As featured in Eric and Amanda's winning wedding on the season finale of TLC's TV
"FOUR WEDDINGS"
Couples' Choice Awards™ 2014-2016, Bride's Choice Awards™ 2011-2013 and Gold Rated Awards™ 2011-2013
Atmosphere Productions LLC
Professional Disc Jockey Entertainment
PO Box 330303
West Hartford, CT 06133-0303
Phone: 860.231.7141
Skype: atmosphereproductions
Celebrating over 30 Years in the Wedding/DJ/Entertainment Music Business
Member of The DJ Network
Member of The West Hartford, CT Chamber of Commerce
Member of The Association of Professional Entertainers
DJ Times ~ Mobile DJ Of The Month
Former WKND Air-Personality
Copyright © 2016 Atmosphere Productions™ LLC All Rights Reserved.
Clinking Of The Glasses.... To Do or Not To Do?