Behind the Scenes of a Professional Officiant Pricing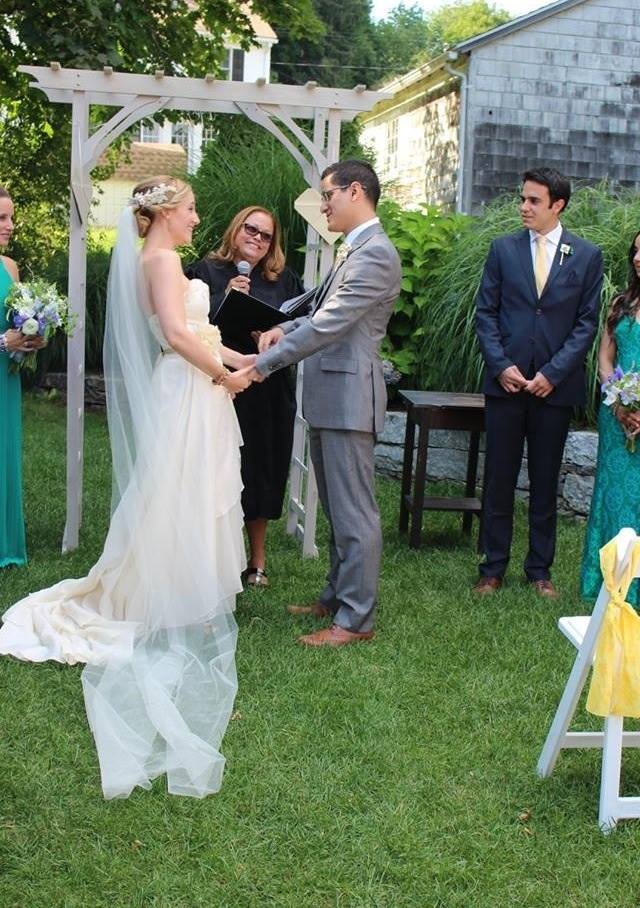 By: Eva Torres-Luciano, Owner of
Eva's Weddings
Congratulations on your decision to get married!
When couples are looking to hire a professional wedding officiant, for example, they may find that our pricing may be higher than the quotes given to them by other amateurs or less experienced officiants. Why? Experience and know-how = overall superior outcome and satisfaction.
Couples must also take into account the Officiant's area of expertise, years of experience, and value to them. For example, expertise in bilingual bicultural, rituals, traditions, unity ceremony weddings.
You will be doing yourself, your wedding and the Officiant an injustice by focusing on price as a starting point. Hiring a professional is a great investment for your marriage. Your fears and nerves will be less, which is PRICELESS!
Why higher prices?
From an Officiant's perspective, there's a lot of time spent and expenses incurred behind the scenes while working for you in order to create a unique, meaningful, and one-in-a-lifetime event.
It took many trials and errors, as well as education and research, networking with other vendors, to get where they are. So now, they can deliver their hard earned experience, skills and services to you in a more professional way.
What are Some of their Operating Costs?
It all starts with your initial phone consultation, then face-to-face interview meeting (takes 1-3 hours), and preparing for that meeting (1 hour). Sometimes it takes switching their personal and family commitments to accommodate the couple's desired time.
The important thing is to get to know you as individuals and as couples, to find out your vision, what are your fears and concerns, to familiarize you with the process, and to personalize your ceremony.
Then consider our costs to get where we are:
Where did you find me? Exactly!
Advertisement costs, websites, Professional membership fees, books and education. Networking; Referrals.
Other Costs: Copies, printing, ink, office equipment, stamps, utility costs, taxes paid, gas, car depreciation, wedding wardrobe, time and expenses for hair appointments and so on, to be elegant for your event and pictures (cost a lot of $); and, in some cases, pay lodging, depending on the travel distance and time of the ceremony (which also takes time away from taking on other wedding business).
Time Allocation (10-40 hours). Time spent traveling to and from rehearsals and ceremony (also takes gas and time from taking on other weddings or commitments);
giving couples suggestions and ideas, when needed; keeping themselves up to date with the latest trends in order to give you more options, wrapping up from the moment you march in with suggested ceremony music, unity ceremony, readings, to your first kiss as a married couple giving options for inclusion/participation roles of your closest friends and family. Pulling everything together to make sure your guests will rave about your ceremony!
More Time (5-20 hours): Then comes the many hours we spend researching readings, prayers, rituals, cultural, family cultures and traditions to make your ceremony unique and meaningful; typing and preparing your drafts and final script, back and forth consultation regarding changes prior to your wedding, respond to e-mails, texts and phone calls (many times taking up from their own private family time).
Day of Ceremony (5 hours): We'll practice and get ready. Travel to and from ceremony. We will show up with great spirits ready to perform the ceremony, even if we're sick, there's bad weather, or (as it happened to me twice) show up with a happy face and enthusiastic just hours after a death in their immediate family.
That's because YOU are our priority of the day, we're responsible and honor our commitment to YOU.
If we can make it, we also have reliable networks in place to try and find a replacement to perform, if needed. We arrive early at your wedding to greet your families. We'll check on the altar props, sound system, and to coordinate with your other vendors (venue, videographer, photographer, musicians), and your wedding party to make sure everybody knows what's their role during the ceremony so that everything goes smoothly and stress free for you!
Even though we all make mistakes, most of us will try hard to improvise and troubleshoot, when circumstances arise, which could save your ceremony celebration and avoid potential embarrassing moments. And there you are… finally getting married to the love of your life! Your guests and family raving about your ceremony! What a great rewarding feeling for everyone!
We usually make ourselves available for wedding pictures, if requested.
After Ceremony Day: Finally, the officiant does a Post-ceremony follow up. Completes and files your Marriage license, answers your questions, and asks for the favor of your review. (Some officiants do not expressly ask for a review.) So, it's a nice way for you to publicly express your gratitude to your hard-working officiant, through their website.
As you can see, you get what you pay for!
If you feel compelled to ask for a discount on a firm quote, pause and remember that a professional wedding vendor is a worthy investment. There are many other officiants that may fit your needs financially, if you are shopping around for lower prices. But if you're looking for quality, a professional is your best bet.
Your professional wedding officiant can either break or enhance one of your most important life event and what you're celebrating in the first place, YOUR MARRIAGE!
Lastly, please be honest about what you want, be prompt, respectful of time, and courteous about your pricing request and details given. Give a definite acceptance or decline answer as soon as possible, pay the required deposit to reserve your date, and keep your scheduled consultation appointment.
Eva Torres-Luciano, Owner of
Eva's Weddings
is a CT Wedding Officiant, Justice of the Peace, Minister services. My specialty is Exclusive and customized wedding ceremonies and vow renewals. English, Spanish or Bilingual. Over 20 years of experience. Unity ceremonies, readings, and other components may be included. Great to include your close friends and family. Non-religious or religious, interfaith, intercultural, romantic, or you can have your own way! Ceremony music may be available. I'm happy to serve same-sex and LGBT couples.
Hoping that you enjoyed this article and that your event is a true success and that you share it with other engaged couples.
Atmosphere Productions LLC is a CT Wedding DJ, providing professional mobile entertainment service, Music, Reception Entertainment Directors, MC and DJ's primarily for Weddings in the Greater Hartford area but throughout Connecticut, Massachusetts, New York, Rhode Island and in the New England area.
Specializing in wedding disc jockey entertainment, radio and club dj's, corporate and business events, photo booth rentals, ceremony musicians, strolling violinist, guitarist, cocktail and chamber musicians, custom lighting, custom song editing and voice-over services.
For further information visit our website at
www.atmosphere-productions.com
Contact us TODAY for FREE information.
DJ Sam
Sylvester Samuels
Reception Entertainment Director
As featured in Eric and Amanda's winning wedding on the season finale of TLC's TV
"FOUR WEDDINGS"
Couples' Choice Awards™ 2014-2016, Bride's Choice Awards™ 2011-2013 and Gold Rated Awards™ 2011-2013
Atmosphere Productions LLC
Professional Disc Jockey Entertainment
PO Box 330303
West Hartford, CT 06133-0303
Phone: 860.231.7141
Skype: atmosphereproductions
Celebrating over 30 Years in the Wedding/DJ/Entertainment Music Business
Member of The DJ Network
Member of The West Hartford, CT Chamber of Commerce
Member of The Association of Professional Entertainers
DJ Times ~ Mobile DJ Of The Month
Former WKND Air-Personality
Copyright © 2016 Atmosphere Productions™ LLC All Rights Reserved.
Behind the Scenes of a Professional Officiant Pricing