Song Requests on Your RSVP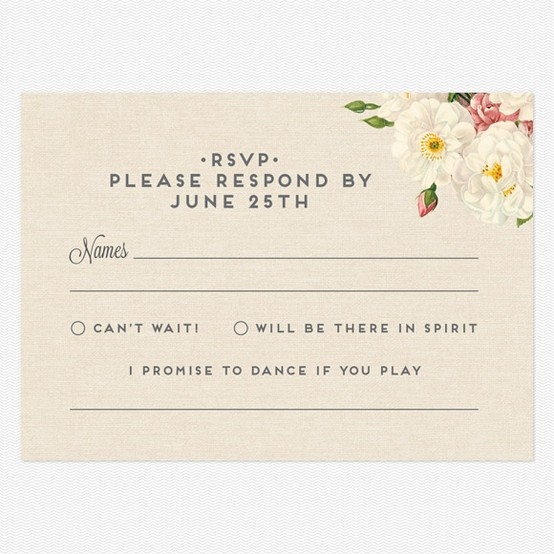 So I've seen this idea of adding a line somewhere on the RSVP card where guests can suggest a song to be played at the reception. It's a great idea. But…. you need to plan ahead and know the advantages and pitfalls.
Firstly, you need to order your invitations well in advance, so that you have plenty of time to correlate the songs from the RSVP. Ask for no more than 3 favorite songs from your guests (If you're tight on space and the back of the RSVP is blank you could ask guests to write their song choice there). Put a disclaimer line that YOU (the Bride & Groom have veto power over ALL song choices. This way requests for the Macarena, Boot Scootin' Boogie, and the Chicken Dance will be null and void!
Here are a few ideas on wording:
1 – ""We're looking for song ideas for the dance portion of our reception.
Give us your favorite dance song and you might hear it played!"
2 – "We're taking requests!
Please tell us if there's a song you'd like to dance to!
________________________________
________________________________"
3 – "We're taking requests!
Let us know if there is a song you'd like to hear:
____________________________"
4 – "I will dance at your wedding if you play this song_______! "
5 – "Please request a song, so together we can dance all night long!
____________________________"
Add a couple of weeks to your respond date because you'll always get some late responses. Once they're all back create a database with the guests names and the songs they requested.
If you want to DIY you can use a template
here
Now comes the hard part. Don't treat the songs as "must plays" but more of a guide for your DJ from
ATMOSPHERE PRODUCTIONS
, to get a feel for your crowd. A lot of guests will request their own wedding songs, or songs they just want to hear. So, go thru the database and prioritize your favorites and least likely to be played. Try to select a variety by keeping in mind the age range of your guests. Don't worry about picking too many songs, your DJ from
ATMOSPHERE PRODUCTIONS
, will be able to read the crowd and select the best.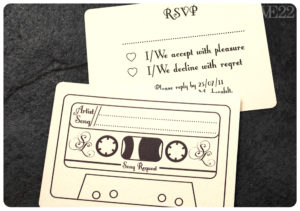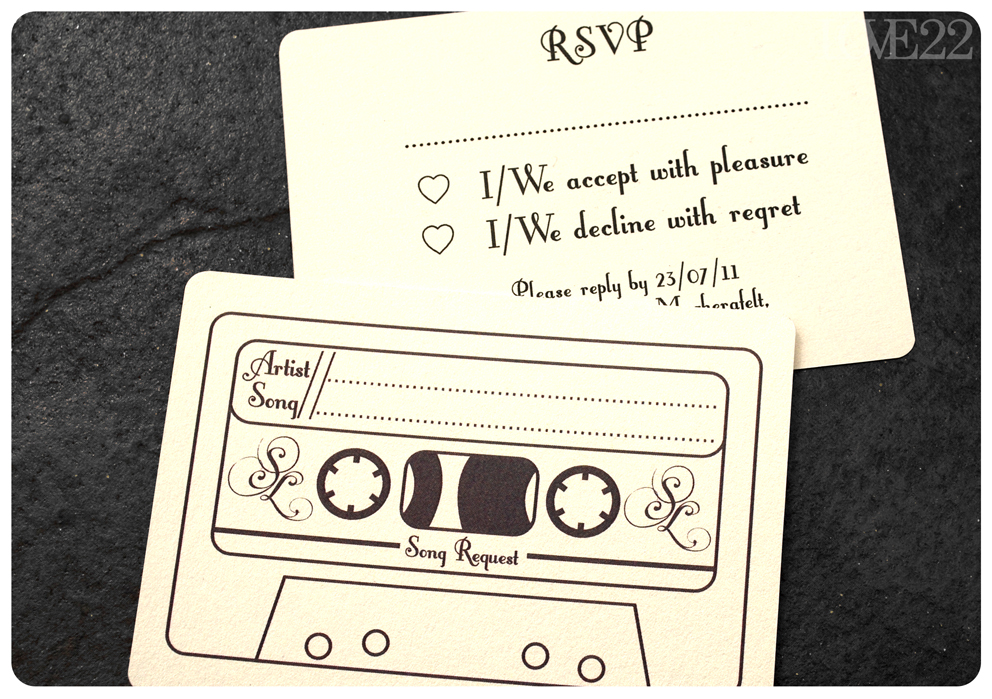 Some vendors on Etsy do custom work. You can start here:
https://www.etsy.com/listing/128437486/personalized-wedding-rsvp-card-with-song?ref=shop_home_feat
You can also try Pinterest:
https://www.pinterest.com/soundscapedjpa/song-request-cards/
Finally, you can forgo the response card idea and 6 weeks before the wedding, send an email with the following wording:
"Dear wedding guest, A quick hello and a request…
We invite you to nominate one song for our wedding reception in 6 weeks time.
You can email us with the title and artist of your song.
We will do our best to source your song and include it in the evening's festivities.
Warning – – any particularly dodgy suggestions will be edited!!
Can't wait to receive your nominations and also to see you at the wedding, lots of love "
Atmosphere Productions LLC is a CT Wedding DJ, providing professional mobile entertainment service, Music, Reception Entertainment Directors, MC and DJ's primarily for Weddings in the Greater Hartford area but throughout Connecticut, Massachusetts, New York, Rhode Island and in the New England area.
Specializing in wedding disc jockey entertainment, radio and club dj's, corporate and business events, photo booth rentals, ceremony musicians, strolling violinist, guitarist, cocktail and chamber musicians, custom lighting, custom song editing and voice-over services.
For further information visit our website at
www.atmosphere-productions.com
Contact us TODAY for FREE information.
DJ Sam
Sylvester Samuels
Reception Entertainment Director
As featured in Eric and Amanda's winning wedding on the season finale of TLC's TV
"FOUR WEDDINGS"
Couples' Choice Awards™ 2014-2016, Bride's Choice Awards™ 2011-2013 and Gold Rated Awards™ 2011-2013
Atmosphere Productions LLC
Professional Disc Jockey Entertainment
PO Box 330303
West Hartford, CT 06133-0303
Phone: 860.231.7141
Skype: atmosphereproductions
Celebrating over 30 Years in the Wedding/DJ/Entertainment Music Business
Member of The DJ Network
Member of The West Hartford, CT Chamber of Commerce
Member of The Association of Professional Entertainers
DJ Times ~ Mobile DJ Of The Month
Former WKND Air-Personality
Copyright © 2016 Atmosphere Productions™ LLC All Rights Reserved.
Song Requests on Your RSVP