Are You Doing La Hora Loca At Your Wedding?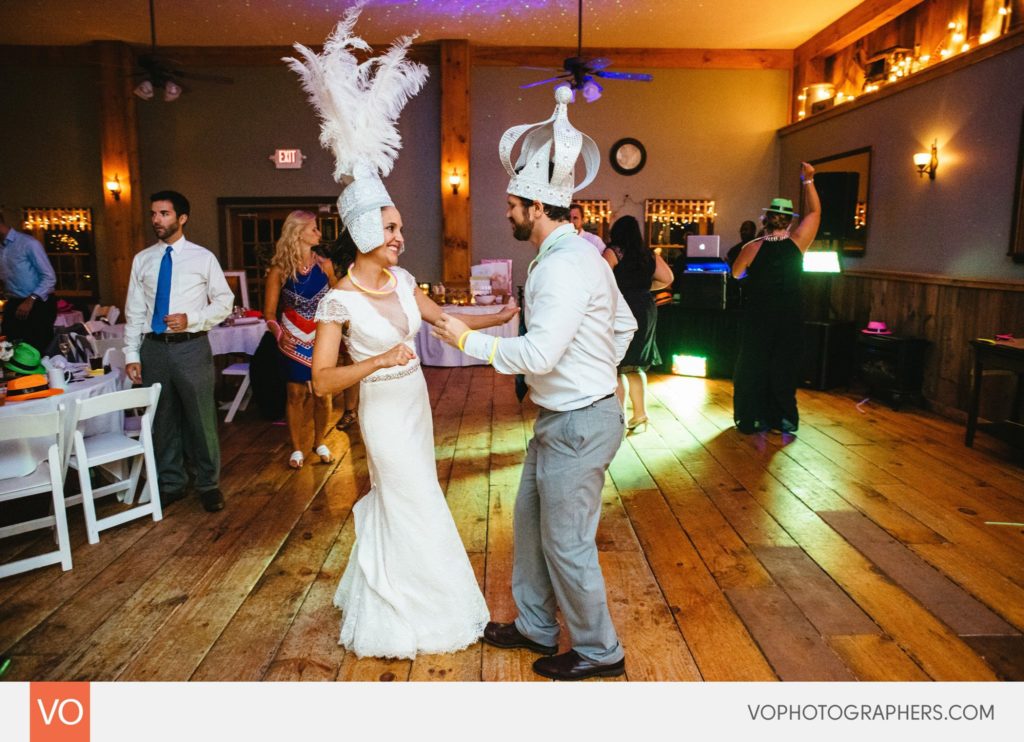 What's "La Hora Loca" you ask? Translated, it means, "Crazy Hour" and is a Latin wedding tradition.Hora Loca Show: The carnivalesque mini-bash is a "transitional hour between the traditional wedding reception and the after-party", (it usually lasts 45 minutes to an hour). In simple terms it's almost like a carnival blowing through your wedding reception.
The lights dim, drums thump, sirens blare and the energy suddenly zooms to 11. Noisemakers, big eyeglasses, props, hats, huge feathers, masks, beads, professional dancers and stilt walkers perform….. oh! Did I forget the fire breathers somersaulting into the room! The important thing is that the party never stops!!!
We recently did "La Hora Loca" at Juliana and Andrew's wedding.  Here are some of the music we used:
Juan Luis Guerra – La Bilirrubina


Juan Luis Guerra – Visa Para Un Sueno


Banda Punta Blanca – Sopa de Caracol


Hermanos Rosario – Fin de Semana


Carlos Vives – El Mar de Sus Ojos


Carlos Vives – Pa' Mayte


Joe Arroyo – Tamarindo Seco


Juan Luis Guerra – Rosalia


Barrio Boyz – Se Me Fue Mi Vida


Wisin + Carlos Vives – Nota de Amor


Angel & Khriz – Ven Bailalo


Daddy Yankee – Limbo



Gypsy Kings – Bamboleo


Merehouse – El Africano


Los Tupamaros – Todo el Mundo Necesita un Bes


If you believe that wedding should have some sort of wow factor, then "La Hora Loca" is definitely a wow factor. Also remember it's another significant wedding related expense. If you've got the money and want it, go for it.
Atmosphere Productions LLC is a CT Wedding DJ, providing professional mobile entertainment service, Music, Reception Entertainment Directors, MC and DJ's primarily for Weddings in the Greater Hartford area but throughout Connecticut, Massachusetts, New York, Rhode Island and in the New England area.
Specializing in wedding disc jockey entertainment, radio and club dj's, corporate and business events, photo booth rentals, ceremony musicians, strolling violinist, guitarist, cocktail and chamber musicians, custom lighting, custom song editing and voice-over services.
For further information visit our website at www.atmosphere-productions.com

Contact us TODAY for FREE information.
DJ Sam

Sylvester Samuels

Reception Entertainment Director

As featured in Eric and Amanda's winning wedding on the season finale of TLC's TV

"FOUR WEDDINGS"

Couples' Choice Awards™ 2014-2017, Bride's Choice Awards™ 2011-2013 and Gold Rated Awards™ 2011-2013
Atmosphere Productions LLC

Professional Disc Jockey Entertainment

PO Box 330303

West Hartford, CT 06133-0303

Phone: 860.231.7141

Skype: atmosphereproductions

Celebrating over 30 Years in the Wedding/DJ/Entertainment Music Business

Member of The DJ Network

Member of The West Hartford, CT Chamber of Commerce

Member of The Association of Professional Entertainers

DJ Times ~ Mobile DJ Of The Month

Former WKND Radio Air-Personality
Copyright © 2017 Atmosphere Productions™ LLC All Rights Reserved.
Are You Doing La Hora Loca At Your Wedding?