Real Wedding - April and Mike - Glastonbury Boathouse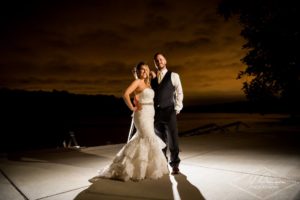 Real Wedding – April and Mike – Glastonbury Boathouse, Glastonbury, CT
We knew April's parents, Scott and Betty, from company holiday parties of Betty's employer.  So when April and Mike asked us to perform at their wedding, we jumped at the chance.  After all we knew that April and Mike wanted to have an amazingly FUN wedding reception.
April and Mike selected the Glastonbury Boathouse in Glastonbury.  Featuring a riverside patio, an observation deck overlooking the Connecticut River and a spacious banquet room.
After their First Look in downtown Hartford, April and Mike tied the knot in a gorgeous ceremony setting right on the banks of the river, with Atmosphere Productions providing a solo violinist for the outdoor Ceremony. As the sun began to set April and Mike took some amazing pictures with Justin from J. Benson Photography on the docks at the Boathouse (see below).
April and Mike's Introduction Music:

LMFAO – Party Rock Anthem / T. I – Bring 'Em Out
April and Mike's First Dance:

Ed Sheeran – Tenerife Sea (So in Love)
April and her Fathers Song:

Rascal Flatts – My Wish
Mike and his Mothers Song:

Fleetwood Mac – Landslide
April and Mike's Cake Cutting Song:

Maroon 5 – Sugar
April's Parents Song:

Billy Joel – Just the Way you Are
Mike's Parents Song:

Stevie Wonder – You Are The Sunshine Of My Life
April and Mike's Last Dance:

Pitbull Feat. Neyo – Time Of Our Lives
Songs That Rocked The Dance Floor at April and Mike's Wedding:

Notorious BIG – Juicy

Wreckx-N-Effect – Rump Shaker

Luis Fonsi, Daddy Yankee and Justin Bieber – Despascito

Pitbull – Don't Stop The Party
April and Mike's Most Memorable Moment: EVERYONE on the dance floor holding hands and singing Billy Joel's "Piano Man"
Pictures provided by Justin from J. Benson Photography – THANKS!!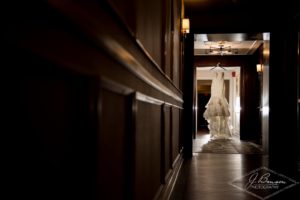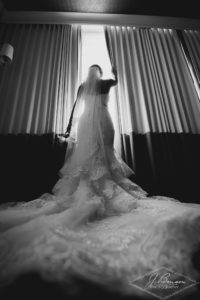 RELATED POSTS:
Real Weddings – Sofia and Ryan – Brignole Vineyards, East Granby, CT
Real Weddings – Rachel & Ryan – Saltwater Farm Vineyard
Atmosphere Productions LLC is a CT Wedding DJ, providing professional mobile entertainment service, Music, Reception Entertainment Directors, MC and DJ's primarily for Weddings in the Greater Hartford area but throughout Connecticut, Massachusetts, New York, Rhode Island and in the New England area.
Specializing in wedding disc jockey entertainment, radio and club dj's, corporate and business events, photo booth rentals, live music, ceremony musicians, strolling violinist, guitarist, cocktail and chamber musicians, custom lighting & wedding uplighting, custom song editing and voice-over services.
For further information visit our website at www.atmosphere-productions.com
Contact us TODAY for FREE information. For free tips and suggestions visit our FACEBOOK page.
DJ Sam

Sylvester Samuels

Reception Entertainment Director

As featured in Eric and Amanda's winning wedding on the season finale of TLC's TV
"FOUR WEDDINGS"
Couples' Choice Awards™ 2014-2018, Bride's Choice Awards™ 2011-2013 and Gold Rated Awards™ 2011-2013
Atmosphere Productions LLC

Professional Disc Jockey Entertainment

PO Box 330303

West Hartford, CT 06133-0303

Phone: 860.231.7141

Skype: atmosphereproductions

Celebrating over 30 Years in the Wedding/DJ/Entertainment Music Business
Member of The West Hartford, CT Chamber of Commerce

DJ Times ~ Mobile DJ Of The Month

Former WKND Radio Air-Personality
Copyright © 2018 Atmosphere Productions™ LLC All Rights Reserved.
Real Wedding - April and Mike - Glastonbury Boathouse