Surviving the First Dance - Ten Tips by Meredith Stead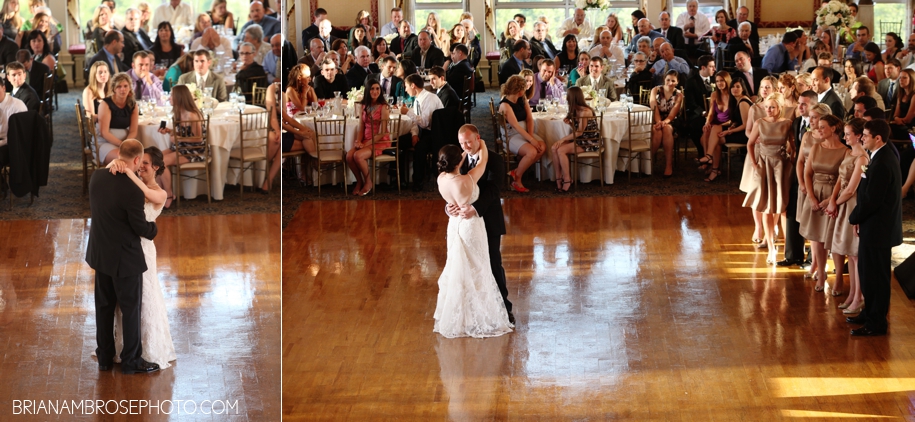 Most couples intend to dance the traditional first dance, but most of them also know nothing at all about dancing! So as the big day approaches their sense of panic increases. Avoid anxiety by following a few easy tips.
Plan ahead: You're planning everything else associated with your wedding, why not your first dance? Ideally you should begin practicing 6 to 12 months ahead of time.


Turn to professionals: Learning to dance is surprisingly painless. If you can't afford private lessons at a local studio, look around for group classes (high schools, colleges and

community

centers

often offer courses). Or, buy an instructional videotape -learn at home and avoid the worry of looking awkward in front of others.


Have options: If you are undecided about your first song, or can't pick one, check the list of wedding dance songs available on this site. Try practicing to two or three different songs that both of you like, and choose the one that feels most comfortable.


Less is more: You need not dance to the entire song (remember, dance professionals don't). Your DJ can cut the song or your band can play a shortened version…..or you can even just have it fade out. Bottom line: you'll look better dancing for two minutes and doing five terrific moves, than dancing for five minutes and doing twelve poorly executed moves.


Decide on a song version: Once you've picked a song, make sure your DJ or band knows how you want to hear it. For instance, don't assume your band will play the song just like the Frank Sinatra CD you've been practicing to. It's a good idea to give them a copy of the version you like, or to get a recording of their version, so that you are practicing to "the real deal."


Think about where you're dancing: If your wedding will be outdoors, install a dance floor – it's pretty hard to spin in mud. Or on grass. If the dance floor at your reception hall is smaller than your bathroom, maybe you'd better rethink that waltz – it takes up lots of space. Try to practice in a space that's similar in size to your reception hall.


Think about what you're wearing: If you have a mermaid dress you'll look terrific. You'll also be taking very tiny steps…. bear that in mind when you plan the first dance. Similarly, if you have an off-the-shoulder gown you won't be able to lift your arms over your head………consider that before you put in all those spins.


And speaking of what you're wearing: practice your dancing as if it's the big day. Grooms: wear a jacket and dress shoes. Brides: wear a long skirt, (unless you're planning that mini-wedding dress!) and your actual wedding shoes. This will accomplish two things: it'll break your shoes in, and it will give you a sense of security about your ability to manage them come the actual reception. If you're worried about getting them dirty, protect them with an old pair of athletic socks.


Don't expect perfection: Nobody at your reception is anticipating that the two of you will put on a show. You're not a professional dance team – and if you are, why are you reading this?! While the two of you are learning and practicing, you are bound to make the occasional mistake. Just stop, talk it out, and try again.


Express yourself: Know your own comfort level, and that of your groom. If you don't like a song, don't dance to it! If you don't like a certain move your instructor shows you, say so. (Be polite, though!) It is, after all, your day and your dance. If you are happy and comfortable you will look

wonderful

, so that should be your goal.
Meredith Stead
is co-owner of Shall We Dance Studios in New York City. She and her husband and partner, John Knapp, released the instructional
video
"Preparing for Your Wedding Dance" in January 2002. In addition to holding several competitive titles, they served as choreographic consultants for Broadway's Original Swing and Mary-Kate and Ashley Olsen's Dance Party of the Century.
© Meredith Stead
Shall We Dance, Inc
Atmosphere Productions LLC is a CT Wedding DJ, providing professional mobile entertainment service, Music, Reception Entertainment Directors, MC and DJ's primarily for Weddings in the Greater Hartford area but throughout Connecticut, Massachusetts, New York, Rhode Island and in the New England area.
Specializing in wedding disc jockey entertainment, radio and club dj's, corporate and business events, photo booth rentals, ceremony musicians, strolling violinist, guitarist, cocktail and chamber musicians, custom lighting, custom song editing and voice-over services.
For further information visit our website at
www.atmosphere-productions.com
Contact us TODAY for FREE information.
DJ Sam
Sylvester Samuels
Reception Entertainment Director
As featured in Eric and Amanda's winning wedding on the season finale of TLC's TV
"FOUR WEDDINGS"
Couples' Choice Awards™ 2014, 2015, 2016, Bride's Choice Awards™ 2011-2013 and Gold Rated Awards™ 2011-2013
Atmosphere Productions LLC
Professional Disc Jockey Entertainment
PO Box 330303
West Hartford, CT 06133-0303
Phone: 860.231.7141
Skype: atmosphereproductions
Celebrating over 30 Years in the Wedding/DJ/Entertainment Music Business
Member of The DJ Network
Member of The West Hartford, CT Chamber of Commerce
Member of The Association of Professional Entertainers
DJ Times ~ Mobile DJ Of The Month
Former WKND Air-Personality
Copyright © 2016 Atmosphere Productions™ LLC All Rights Reserved.
Surviving the First Dance - Ten Tips by Meredith Stead