Time for Photography by Bob Hennessy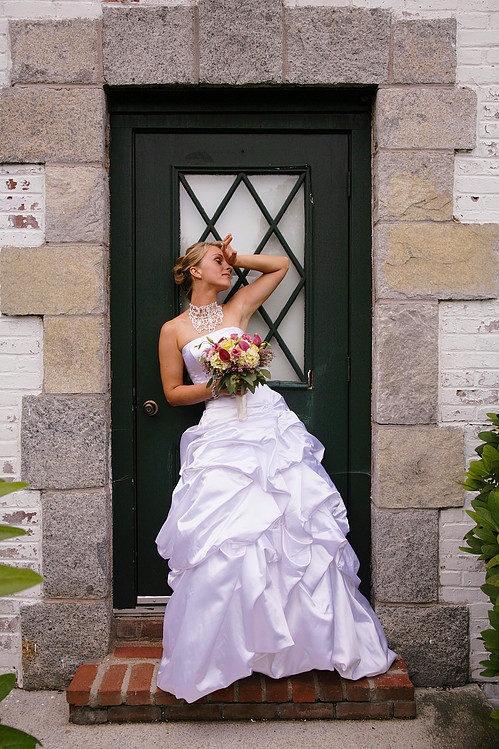 Your wedding day is 24 hours or 1,440 minutes or 86,400 seconds short. Why short? Because it is divided by a million things to accomplish!
By now you should know them by heart but if not you soon will. That morning you'll be busy with things like hair, makeup, getting dressed, eating. That's right. Don't forget eating and photography at the house. These and many, many other items are all part of the time allotment puzzle.
Some photographic styles have developed purely to ease the tension associated with "the day". Candid or photojournalistic styles don't require stopping the action or taking away minutes you'd prefer devoting to other activities. More traditional or stylistic choices may require additional time for set up, lighting requirements etc. but can be creatively scheduled throughout the day or even at a later date. The final outcome should really be determined by your choice of photographic coverage. Whether your preference is for one or the other or a mix of both will determine the amount of time you will need to set aside for your photographer.
Also don't forget your family and their needs. Yes it's your day but if you want your day to truly be a success you've got to consider others as well. What are they're expectations? Are you willing to help fulfill their dreams as well as your own or not. By the way, who will be paying for the event is an important consideration here, but not the only determining factor.
So with this in mind you begin to understand that a certain portion of your 1,440 minutes will be devoted to professional photography. It is very important that you discuss the entire day with your photographer to determine what portion of your day you will devote to their efforts. They will guide you through a number of questions to determine what your expectations are as well as your families. From this they will be able to set a plan that works for you and them.
A word of caution though, when minutes are shifted from one service to another your expectations should shift as well. If your hair and makeup run late or your wedding party is un co-operative or the wedding service is longer than expected or the limo gets stuck in traffic or… Remember you only have 86,400 seconds at your disposal. Use them wisely!
Wishing you the Best!
362 Main St.

Cromwell, CT 06416

Office 860-635-3382

Cell 860-534-0260
http://www.radialarts.com
Atmosphere Productions LLC is a CT Wedding DJ, providing professional mobile entertainment service, Music, Reception Entertainment Directors, MC and DJ's primarily for Weddings in the Greater Hartford area but throughout Connecticut, Massachusetts, New York, Rhode Island and in the New England area.
Specializing in wedding disc jockey entertainment, radio and club dj's, corporate and business events, photo booth rentals, ceremony musicians, strolling violinist, guitarist, cocktail and chamber musicians, custom lighting, custom song editing and voice-over services.
For further information visit our website at www.atmosphere-productions.com

Contact us TODAY for FREE information.
DJ Sam

Sylvester Samuels

Reception Entertainment Director

As featured in Eric and Amanda's winning wedding on the season finale of TLC's TV

"FOUR WEDDINGS"
Couples' Choice Awards™ 2014-2016, Bride's Choice Awards™ 2011-2013 and Gold Rated Awards™ 2011-2013
Atmosphere Productions LLC

Professional Disc Jockey Entertainment

PO Box 330303

West Hartford, CT 06133-0303

Phone: 860.231.7141

Skype: atmosphereproductions

Celebrating over 30 Years in the Wedding/DJ/Entertainment Music Business

Member of The DJ Network

Member of The West Hartford, CT Chamber of Commerce

Member of The Association of Professional Entertainers

DJ Times ~ Mobile DJ Of The Month

Former WKND Air-Personality
Copyright © 2016 Atmosphere Productions™ LLC All Rights Reserved.
Time for Photography by Bob Hennessy